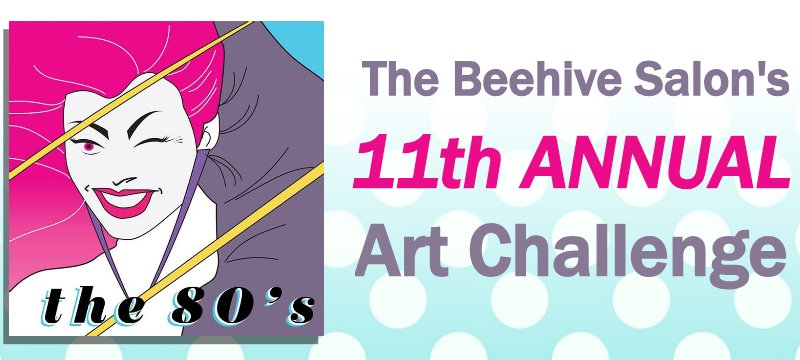 11th Annual Art Challenge: the 80's
The 80's
It's a decade of big spenders, big shoulder pads, big personalities, and even bigger hair! This year the staff of the Beehive Salon in Carrboro is paying tribute to the era of the eighties.
The Beehive Salon is issuing an art challenge.
The Challenge: Create a work of art inspired by the 80's: any type, any medium, any style, and any size (as long as it can fit inside the salon). All ages are encouraged to participate. The top 7 winners will have their artwork displayed inside the Beehive Salon from July 1st to August 31st, 2018, and will be a part of the 2nd Friday Art Walk* on July 13th.
The Prizes
1st Place: $100 gift certificate to The Beehive Salon
2nd Place: $75 gift certificate to The Beehive Salon
3rd Place: $50 gift certificate to The Beehive Salon
4th – 7th Places: gift package
Winners will be chosen by the Beehive staff, and announced the following week.
Deadline: bring entries to The Beehive Salon by Saturday, June 30th, by 6pm*
Opening Reception: July 13th, 2018, from 6pm-9pm during the 2nd Friday Art Walk  
Location: The Beehive Salon, 102 East Weaver Street, Carrboro, NC 27510
The Beehive hours: Mon.: 10am - 2pm, Tues. - Fri.: 10am - 8pm, Sat.: 10am - 6pm
For more information, visit us on Facebook or contact The Beehive Salon at 919-932-4483 or at thebeehivesalon@gmail.com
* The Beehive Salon takes no commission from the sale of artwork. 100% of the price of any artwork sold while displayed in the salon will go directly to the artist.
**All artwork must be delivered to the salon by the deadline to be considered.  Any artwork not picked up by 9/8/2018 will be considered abandoned.