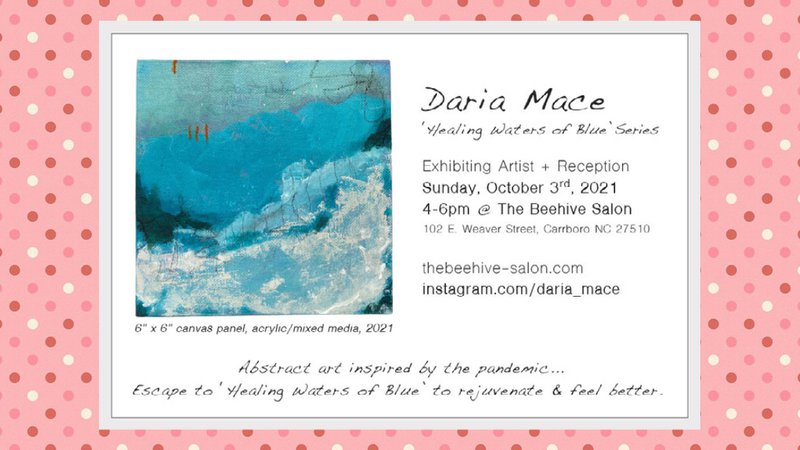 Art Opening for Daria Mace's Healing Waters of Blue
From the artist:
Since moving here last July from Oakland, CA, I have been 'adapting' (as you have) to the pandemic lifestyle. It was challenging AND rewarding at times. Being indoors so much, I craved to be near the beach – my happy place – where the sky kisses the water that kisses the sand. Whenever I look at the ocean, I instantly 'feel' better – and a sort of healing occurs within. I feel calmer, at ease, and somehow ready for whatever comes my way next.
Back at my small apartment in Carrboro, we've had my husband working from home and most of last year I was homeschooling my son. My creative side began to itch. I started to paint when I could. That's when 'Healing Waters of Blue' came through. A series of abstract pieces that are inspired by various beach scenes (Kauai, where I used to live, or the Caribbean where I hope to go soon…etc.).
I love abstract art because it is the most freeing form of visual expression I can think of with my paintbrush! The possibilities are endless – literally. I adore the parameters (or not) of depth, value, variety, opposites, color, energy, motion, etc. It keeps me on my toes.
After a long pandemic experience (that continues in many new ways), who couldn't use a bit of healing right about now?